Capiz -
this is elegance in its purest form. The idea of the luxerious 20's, to use Capiz for interior decoration and wall panelling, was revived and brought to the standard of today, in regard of technical possibilities, durability and esthetics. Now, Capiz is up to date!


Capiz
-
a product of mother nature, a flat, transparent shell from the South China Sea, with its subtle pearl effect, is the basis for a range of products which is limited only by our own imagination and creativity. »


Capiz
-
Panels can be manufactured in all sizes and shapes - taylored. The coating of high polymer resin makes them waterproof and impervious to heat, alcohol, vinegar etc.


Capiz
-
panels are specially designed for Hotels, furnishing of lobbys, bars, dining rooms, pools, as shower separation, for Intarsia on furnitures, walls and ceilings, for covering of pillars, for furnishing of movies and theaters, TV-studios etc.etc.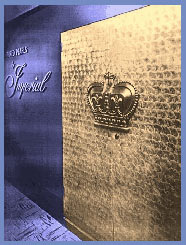 Capiz
-
dies ist Eleganz pur. Die Idee aus den luxuriösen Zeiten der 20'er, Capiz zur Innenausstattung zu verwenden, ist wiederbelebt und auf den heutigen Stand von ästhetischem Anspruch und technischen Möglichkeiten gebracht worden.


Capiz
-
ein Naturprodukt, die flache, transparente Muschel aus der Süd Chinesischen See, mit ihrem feinen Pearl-Effekt ist die Ausgangsbasis einer Produktpalette, die eigentlich nur von unserer eigenen Vorstellung und Kreativität begrenzt wird.


Capiz
-
Panele können in allen Größen und Formen, maßgeschneidert angefertigt werden. Die Versiegelung aus hochwertigem Acryl macht sie wasserdicht und resistent gegen Hitze, Alkohol, Essig, etc.


Capiz
-
Panele eignen sich besonders zur Ausstattung von: Hotels, Empfangshallen, Bars, Speiseräumen, Pools, als Dusch-abtrennung, für Intarsienarbeiten an Möbeln, Wänden und Decken, zur Verkleidung von Säulen, zur Ausstattung von Kinos, Theatern, TV-Studios etc.etc.